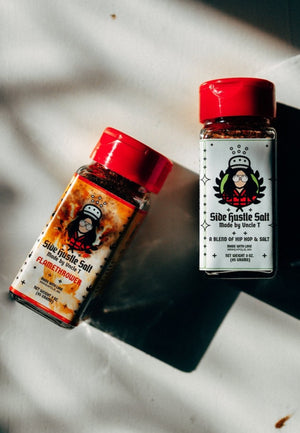 Side Hustle Salt
2 for 15!
Sale price Price $15.00 Regular price Unit price / per
Tax included.
Choose a combination of 2!

The Original is a smoky blend of chipotle peppers, herbs, dried vegetables, and salt. With just a little bit of spice to it, this extremely versatile blend is all about the flavor and can be used on anything that you use salt on! Fan favorites include avocados, chicken, burgers, popcorn, bruschetta, and beyond! 
Flamethrower. Unlike the Original, this blend is bright and hot rather than smoky and pairs well with almost any food that you are looking to add some spice to. Made with scorpion pepper!
FYI - The cost of shipping for one bottle is $4.50. The cost to ship two bottles is $8.50 but the cost to ship four bottles is also $8.50! Save significantly by purchasing more bottles at once or opting to purchase refillable bags instead!
***We are a very small business! Shipments are only sent out once weekly. If you need your products within a certain time range, please email tori@sidehustlesalt.com and we will do our best to accommodate!